The Ultimate Dog & Cat Health Food Store
Meet Brad and Sally Romero, the founders of Ben's Barketplace®!
Our conscientious mission is to educate pet owners about how they can dramatically enhance and maintain the health and well-being of their pets. We are passionate about sharing our nutritional expertise with other dog and cat lovers.
With over 40 years of combined experience in law enforcement and almost 20 years in law enforcement K9, we decided to follow our passion and open a health food store for our four-legged friends.
Did You Hear?
We were voted one of America's coolest pet stores by Pets Plus Magazine!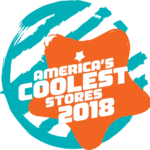 What's in an all-natural, species-correct diet?
No inferior fillers, by-products, or unhealthy preservatives.
We've seen the amazing effects a species-correct diet can have on not only the thousands of pets who've been served by Ben's, but also our own dogs - Ben, Nikita, Rex, Frankie, Danté, and Chance.
Our business is our passion - not our bottom line. We value our customers and honor the trust they've placed in us to help provide a healthy diet for their four-legged family members.
We'd never stock a product we don't fully believe in. All of our products are superior, safe, and Ben's Barketplace approved. 
Doesn't your pet deserve the best?
Find Your Ben's
Ready to join the Ben's Barketplace family? Find your local store to start your pet on the path to ultimate health. 
Our stores offer free local delivery, laser-focused nutritional consultations, and a frequent buyer programs to save you money!